Naturopathy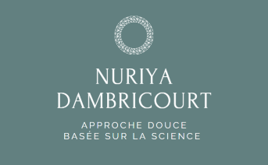 Nuriya Dambricourt grew up in Russia, in a family of doctors practicing the integrative approach. She studied Economics and Corporate Finance in Kazan, then in Paris.
After working for several years in a large international bank, she turned to her passion
turned to her passion: health.
At 33 years old and with two children, Nuriya returned to school. She chose a naturopathic school that offers a program with a solid scientific base and moved to Quebec.
After 3 years and 2000 hours of full-time study, she graduated as a naturopathic practitioner from EESNQ (Ecole d'Enseignement Supérieur de Québec).
She is currently pursuing a Doctorate in Naturopathic Sciences to further her knowledge.
Her experience in the corporate world allows her to understand the problems that employees of large companies experience. And her experience as a woman and mother allows her to accompany women in all phases of their lives.
During her years of practice, Nuriya has specialized in digestive health (chronic reflux, chronic constipation, ulcerative colitis, Crohn's disease, etc.) and women's health (preparation for pregnancy and menopause, PMS, endometriosis, PCOS - polycystic ovarian syndrome, migraines, etc.)