Emilie Martel
Masso-kinesitherapy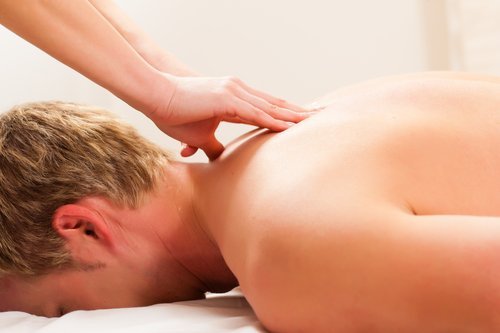 Many patients find that there is a big difference between
massage therapy treatments offered in a spa versus in a clinic.
In fact, there are major differences between spa and clinic.
Here is a comparison that will allow you to visualize
the two contexts from a general point of view.
. . . . . . . .
Massage therapy in a spa
Objective
The objective of a spa is to offer clients an atmosphere of relaxation. The goal is to allow them to unwind and decompress from their daily lives. In short, to offer them a paradise where they can forget and take a break from their personal and professional worries for a while.
. . . . . . . .
Approaches/Techniques
The approaches and techniques in massage therapy follow the objective described above. Essentially, they offer relaxation to the body. There are many approaches and techniques in the field of spa massage therapy. From Swedish (the best known and most common) to Californian or hot stone, as well as approaches from the Hawaiian (lomi-lomi) or Asian (shiatsu, Thai) traditions. To find out about each of the approaches offered, you should ask the receptionists for more information in order to find out which one best suits your needs at the time.
The health assessment is short and summarized, leaving more of the treatment time to the massage. There is little or no exercise advice. The time between each patient is often very short.
Some spas offer the possibility for couples to be massaged together in the same room (tandem massage).
. . . . . . . .
Session length
They vary from one spa to another. They can range from 30 minutes to 90 minutes. Some places offer 2 hours.
. . . . . . . .
Clothing during the sessions
Generally, with or without underwear depending on the patient's discretion. However, some massage therapists may require the wearing of underwear.
. . . . . . . .
Rates
Varies. Generally more expensive than in a clinic. Can go from 90$ to 120$/hour.
. . . . . . . .
Tips
According to the patient's discretion. Generally accepted.
. . . . . . . .
Related Services
In spa, generally other services are offered to the customers during their stay. Always with the objective of taking a break from their daily routine. For example, body and/or aesthetic treatments, water circuits, saunas, gym, etc.
Massage therapy in the clinic
Objective
The objective of a clinic is to treat. Therefore, the objective of a clinic like Altermed is to offer patients interdisciplinary health care treatments with the goal of relieving pain, problems, and blockages in the musculoskeletal system. Massage therapy is included in this objective.
. . . . . . . .
Approaches/Techniques
In a clinic, the approach is more therapeutic and clinical. In other words, aiming to concretely relieve muscles of their tensions, and to relieve joints stuck by stuck muscles. The sessions therefore take place according to this treatment objective. They begin with a complete health check-up and musculoskeletal tests. The massages in the clinic are more specific to the clients' problems and according to the clinical impressions of the massage therapists. The massage therapists can teach you stretching exercises or other effective tips for your recovery.
In this context, massage therapists choose more therapeutic continuing education (kinesitherapy*, orthotherapy**, kinesiology***, etc.) in order to increase the effectiveness of their treatments.
. . . . . . . .
Length of sessions
60 minutes*, generally.
*Some massage therapists offer 90 minutes.
. . . . . . . .
Clothing during the sessions
Generally, underwear is mandatory. Some also require a bra or an apron. The massage therapist will specify this for you.
. . . . . . . .
Rates
80 to 100$/hour*.
*Varies from one massage therapist to another, depending on their academic training and experience.
. . . . . . . .
Tips
According to the patient's discretion. Acceptance varies from one clinic to another, and from one massage therapist to another. Some places refuse.
. . . . . . . .
Related services
In the clinic, there are no other services offered with the treatment. However, it can offer treatments of other professions as it is possible with Altermed. Here we offer osteopathy, physiotherapy, acupuncture, nutrition, psychology..., and others to come later perhaps.