Eve Godin
Nutrition
Why not get your hands dirty to create healthy, yet delicious and easy-to-make desserts?
Let's finally drop the prejudices according to which desserts are too sweet, too fatty, too caloric or too difficult to prepare. By having control over the choice and quality of the ingredients that go into making our desserts, we obtain much healthier results than commercial desserts. Additional positive point: making your own desserts is also more economical!
In this series of articles, Eve Godin, Gourmet Nutritionist, shares her recipes while teaching us a little more about their main components and their nutritional contributions.
.....
It was the Aztecs who, in a way, invented chocolate by making beverages they called tchocoatl. For them, the cocoa tree had magical powers and divine origins. These supernatural virtues have partly remained in our traditions!
Basically, the pod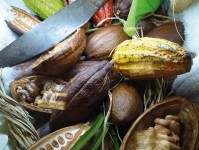 The cocoa pod, the fruit of the cocoa tree, is shaped like a football. It contains cocoa beans which are removed and then processed, crushed and ground, which makes it possible to obtain the cocoa mass. When this paste is pressed, two elements result: cocoa powder and cocoa butter.
• Unsweetened chocolate: solidified cocoa mass without added sugar. Its flavor is chocolate but its very bitter taste makes it inedible as is. It retains its shape when cooked.
• Dark chocolates (also called semi-bitter or semi-sweet): contain a minimum of 35% cocoa mass, cocoa butter, sugar and, occasionally, emulsifiers. They are interchangeable but differ in taste.
• Milk chocolate: contains at least 10% cocoa mass, cocoa butter, milk powder and sugar. It has a mild flavor and a creamy texture. It tends to burn when melted (which is due to the presence of milk solids).
• White chocolate: does not contain cocoa paste. It is made from cocoa butter with added sugar, milk powder and vanilla essence. Like milk chocolate, it tends to burn when melted.
The % of cocoa, to each his tastes!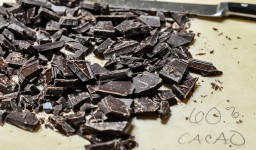 The percentage indicated on the packaging represents the proportion of cocoa mass used in the manufacture of chocolate. For example, a 90% cocoa chocolate contains little sugar but more cocoa powder and butter than a 65% cocoa chocolate. The higher the percentage, the more bitter the chocolate tends to be.
Antioxidants, yes but…
Cocoa is said to contain antioxidants beneficial for heart health. Dark chocolate would contain more than milk chocolate, while white chocolate would contain none at all. However, as the amount of antioxidants to consume to benefit from the protective effects is not known, it is better not to put all our hopes in chocolate.
Good and bad fats
Chocolate is rich in two types of fat: saturated and monounsaturated. These would help lower bad cholesterol and increase good cholesterol, but saturated fats are generally known to be detrimental to heart health. Flat! Some studies have shown that the saturated fats in chocolate don't work the way they usually do. No increase in cholesterol would be observed.
Anti-depression?
Chocolate contains compounds that would act as antidepressants and stimulants, but they would be present in quantity
too minimal to be really active… unless you consume kilos of chocolate!
Health Conclusions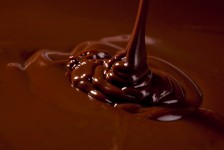 Being very fatty, chocolate is very caloric! A square of a dark chocolate bar contains as many calories (56) as a buttered half toast. It could explain the appearance of headaches and migraines and cause reflux of acidity in people easily prone to these disorders. Happy sides or dark sides, chocolate is a pleasure food to consume in moderation!
A mass of melted chocolate
Several factors can be responsible for chocolate caking, such as the addition of too cold a liquid or simple droplets of water falling into the bowl. The thing? Add more liquid! Go gradually by incorporating a hot liquid (usually water) until the mixture becomes smooth again.
Whitish traces on the chocolate
They are due to the presence of cocoa butter in the chocolate which has melted and resolidified on the surface. Eating is safe and nothing will show if melted.
Storage of chocolates
Well wrapped, chocolate can be stored in a dry place at room temperature. As white chocolate contains a lot of fat, it will tend to go rancid and has a shorter shelf life (about 4 months) than other types of chocolate (about 6 months to 1 year).
Recipe :
Mini chocolate coulants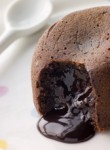 Achieving the perfect flow is not an easy task. How many times have I gotten runny… not runny at all with a rather squishy texture! This recipe makes it possible to prepare miniature coulants, be careful not to overcook them so that the center remains tender.
Preparation time: 20 minutes
Rest: 1 hour
Cooking: 5 minutes
Servings: 6 (12 mini coulants)
Ingredients
135 g (4.5 oz) 70% cocoa dark chocolate in pieces
80 ml + 30 ml (1/3 cup + 2 tbsp) unsalted butter or non-hydrogenated margarine
45 ml (3 tbsp.) milk
15 ml (1 tbsp.) unbleached all-purpose flour
15 ml (1 tbsp.) cornstarch
60 ml (1/4 cup) brown sugar
2 eggs
Preparation
1. In a bowl, place the chocolate and butter or margarine. Melt in the microwave for about 90 seconds. Add the milk and mix until the preparation has a homogeneous consistency. The residual heat will melt the chocolate. To book.
2. In another bowl, whisk the brown sugar and eggs until the mixture becomes frothy and pale, about 2 minutes. Add the flour and cornstarch and continue whisking until the mixture is smooth.
3. Add the chocolate and butter mixture and mix with a spatula until everything becomes smooth.
4. Leave the dough to rest for at least 1 hour in the refrigerator.
5. Preheat the oven to 200°C (400°F).
6. In previously buttered mini muffin tins, place the equivalent of 15 ml (1 tablespoon) of batter in each cavity.
7. Bake for about 4-5 minutes. The center must remain melting.
8. Gently unmold and immediately serve 2 small coulants per person.
Nutritional values:
300 calories
27g fat
15g carbohydrates
1g fiber