Clinique altermed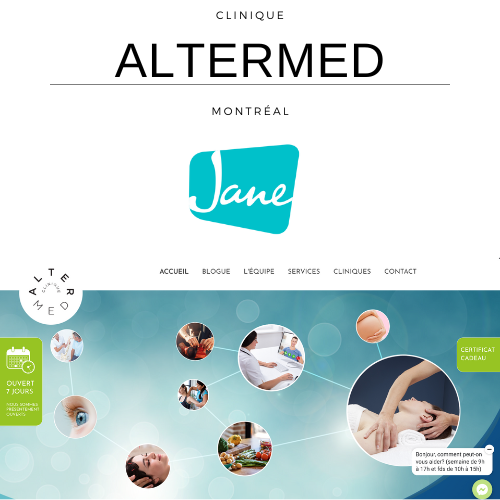 Dear Customer,
We are delighted to provide you with practical instructions for booking an appointment at Clinique Altermed using the Jane software. Jane is a user-friendly tool that simplifies the appointment booking process. Here are the steps you need to follow to book an appointment with ease:
Access Jane :
To get started, open a web browser on your computer or mobile device.
Go to the Clinique Altermed website
Select Service Required on altermed.janeapp.com
Once on the website, look for the "Book an Appointment" option or a similar tab.
You will be directed to the online booking page. Here you can select the medical service you require.
Choose a healthcare professional:
After selecting the service, you will be able to choose the healthcare professional of your choice, if applicable.
Some services require a specific selection of professional, while others will assign you an available professional.
Select a date and time:
You will be redirected to a calendar where you can view availability.
Choose the date and time that suits you best from the available slots.
Fill in your information:
You will be asked to provide your personal information, including your first and last name, telephone number and e-mail address.
You will also have the option of adding your credit card to your account to facilitate payment of your sessions. This will allow you to pay your consultation fees more easily.
Family member management:
Jane offers every customer the possibility of opening and managing family members. This makes it much easier to book appointments for your whole family, as you can manage your loved ones' appointments from a single account.
Confirmation and reminders :
Once you've filled in your details, you'll receive an appointment confirmation by e-mail.
Jane can also send you appointment reminders by e-mail or SMS, depending on your preferences.
Appointment management:
If you need to change or cancel your appointment, or that of a family member, you can do so by accessing Jane from the clinic's website.
Be sure to follow the clinic's change or cancellation policies to avoid possible charges.
Jane is designed to make booking an appointment at Clinique Altermed simple and convenient, with your entire family's needs in mind. If you have any further questions or concerns, please do not hesitate to contact our customer service team, who will be happy to assist you.
We hope you find this information helpful in planning your appointments at Clinique Altermed. We look forward to welcoming you and providing you with the best possible health care.